KhaldorTV partners with Hype Energy Drinks
3 years ago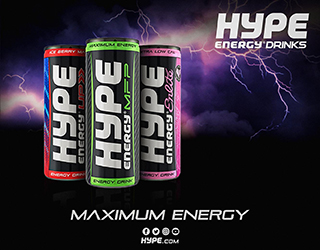 The KhaldorTV project is steadily growing! While the streams on Twitch are getting more traction and the regular content on YouTube is increasing the subscriber base, the new website provides a hub for all the information around the project. Therefore we are very excited to announce a new partnership, as Hype Energy Drinks is partnering up with KhaldorTV!

Hype was introduced by the founder of Hard Rock Cafe in 1994 and has made a name for itself in sports and Esports alike. Their products are available in more than 40 different countries and have recently also been introduced to the German speaking market. For more information about Hype make sure to check out the Hype Energy Website!

All that's left to say at this point is that we are very excited and HYPED about the new partnership, and that we apologize for not being able to pass up on the obvious pun! We hope you are as hyped as we are and we'll see you on Twitch and YouTube!
Upcoming Streams
No streams have been scheduled yet.
Recent Tweets